Tomatin Distillery
Location: Tomatin, Inverness-shire IV13 7YT
Roads: On the A9, 16 miles south of Inverness
Hours: Mon - Fri 9.00am - 5.00pm (last tour 3.30pm) Sat: May - Oct 9.00am - 1.00 pm (last tour 12.00) Groups must book in advance. No admission charge
Distillery tour, displays, tastings
Phone: 01808-511444

This is Scotland's largest Malt whisky distillery producing 12 million litres a year and, at 1028 ft (313m), the third-highest. It is a rather exposed, treeless stretch of country yet in prehistoric times it was thick with pine forest. During the excavation of the 30-foot-deep (9m) cutting for the railway here, successive levels of the remains of pine trees were discovered; the line rises to the summit pass of the Slochd not much farther to the south.

As a distilling site, illicit or otherwise, Tomatin goes back to the 15th century but the present operation dates from 1897 when the distillery-building bubble was just about to burst. As late as 1956 it had just two stills but in a major expansion programme in 1973, the capacity was boosted from 12 stills to a mighty total of 23. Tomatin was principally a fillings-supplier to the major blending companies but over the last ten years, they have concentrated increasingly on marketing their own range of aged Malts and blends to the comsumer worldwide. In 1996, they bought over the firm of J&W Hardie, makers of the famous 'Antiquary' blend and this product now joins the Tomatin portfolio.

There were six wash and five spirit stills prior to the 1973 addition of 6 more of each. When production was cut back at the beginning of the 1980s, it was done by closing down the entire new set of stills. Such is technology today that one man can operate the entire distilling operation when all 23 stills are in action. With so many stills, there was a prodigious amount of waste hot water produced and Tomatin spent £100,000 on a commercial eel farm project. Elvers were raised in tanks and they grew as much in eight months in the balmy distillery run-off temperatures as would have taken two years in the cooler wild. Although markets were found the project closed in 1984.

Tomatin's maltings were retained until 1973 before going over to central maltsters for supplies. Given the scale of operation, floor malting would have satisfied a tiny proportion of the modern production capacity at Tomatin.

The water source is the Allt na Frithe burn, a name that translates as the 'Freeburn'. A hotel of that name at Tomatin used to offer the privilege of fishing for salmon and trout in the nearby Findhorn to anyone registering as a resident for a few days.


The Whisky

Tomatin is elegant and airy with understated sweet, floral flavours and quite big smooth texture. It is available on the UK market as a 10 year old malt (soon to be upgraded to a 12 year old) and it is also used extensively in the company's 5 year old and 12 year old 'BIG T' Blended Whiskies. On the export market, Tomatin is increasingly enjoying growing sales, especially in the USA and Japan. The independents also offer 'Tomatin' in the bottle in limited quanitites from a variety of wood types and ages. Some 1970 vintages are still avaiable from specialist outlets.

Source of water
Allt na Frithe Burn

Of interest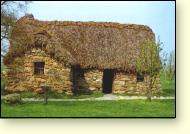 A crofter's cottage at the Culloden Moor museum gives an indication of the common form of housing in the area at the time of Bonnie Prince Charlie.

T• Cairngorm Whisky Centre near Aviemore has just about everything to do with bottled whisky. Enormous range of miniatures stocked. Tastings held.

• Loch Ness is deep, dark and may indeed have a 'monster' other than occultist Aleister Crowley who lived by its shore. Be advised – don't scoff. Too many people, locals and visitors, have seen something, many of the sightings not even published because they seem so impossible. BBC TV presenter Nicholas Witchell wrote a book on it all and in 1979 a BBC camera team shot 10 minutes of film of something moving fast through the water and leaving a substantial wake. Naturalist the late Sir Peter Scott came up with computer-enhanced pictures after a hi-tec investigation.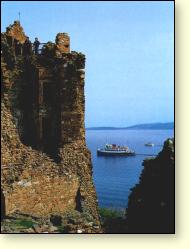 Castle Urquhart, positioned on a knoll overlooking Loch Ness, is one of the largest castles in Scotland. It was badly damaged in 1688, after King James VII fled into exile, and finally fell into decay the following year after a seige involving William of Orange's forces.

T• Culloden Moor is where the final act of the Jacobite Rebellions took place in 1746. The clansmen were cut down by the Hanoverian forces and those not dead finished off with coups de grâce where they lay or crawled. Communal graves are scattered about the moor and woodland, the stumpy headstones indicating clan names only. There is an interpretative centre and museum on site.

• Urquhart Castle is a very picturesque ruin on the loch-shore below Brummondochit.

• Castle Stuart, ancient seat of the Royal House of Stuart family, the Earls of Moray, is visible on the Fort George road. The crown surmounting the round tower indicates the regal status of the family.

• The Clava Cairns are just down the road from Culloden, a trio of Palaeolithic chambered burial tombs with surrounding stone circles. Look out for the inscribed cup-and-ring marks, thought to be associated with magico- religious ritual.