Royal Lochnagar Distillery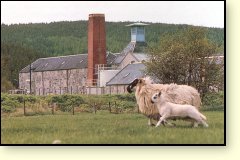 Location: Crathie, Ballater, Aberdeenshire AB35 5TB
Roads: Off the B976 or from A93 Aberdeen - Braemar
Hours: 10am - 5pm, Mon - Fri; also Easter - October, same times Sat and 11am - 4pm, Sun
Group bookings by appointment
Reception centre, shop, coffee shop, exhibition, (non-producing) illicit still and audio-visual
Phone: 013397-42273

It is one thing for the new neighbours to drop in to visit – quite another when they turn out to be Queen Victoria, husband, children and lady-in-waiting. This is what happened one evening in 1848 when John Begg looked out of the window and saw the little gaggle of figures walking up the driveway towards his house. He lived at Crathie by the River Dee and the Royal Family were about to buy the Balmoral estate next door to the new distillery, which Begg had built just three years earlier.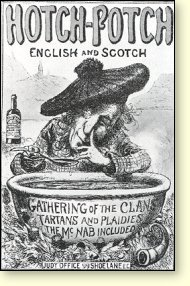 An early advertisement for John Begg's Lochnagar whisky.
When the Royals arrived for their first stay at Balmoral, Begg had handed in a note inviting them to 'see round his works', rather impudently hinting that if they did not get there by 6pm the following evening, they would miss seeing the distillery in operation. No question of extending the routine to accommodate Her Majesty – be there or you miss it, he seemed, perhaps ingenuously, to be saying.
The Queen and Prince Albert saw round, had the process explained and dipped their fingers in the new spirit to taste it while the little princes chased each other in and out of the rows of casks. Some mature whisky was taken from bond for sampling and, when Prince Albert seemed about to drink it in a single gulp, Begg quickly reminded him that it was cask-strength and very strong. Subsequently Begg was permitted to describe his distillery as 'Royal' Lochnagar and he was appointed, by Royal warrant, 'Distiller to Her Majesty'. Over the years, further Royal Warrants followed. Sending that note was the best thing for business Begg ever did.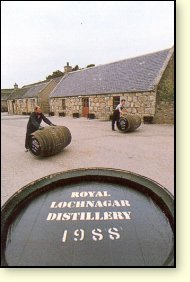 Lochnagar Distillery became known as 'Royal Lochnagar' in the middle of the 19th century, after a visit from Queen Victoria.
Scottish children try to trick each other by asking how deep Lochnagar is, the catch being that it is not a loch but a mountain. It not very high (3789 feet/1155m) but it is bulky and dominates the smiling, tidy countryside below.
The Royal connection has meant a string of famous visitors to the distillery, many of them British prime ministers taking an hour or so off between meetings with the monarch of the day at Balmoral.
The first licensed Lochnagar distillery was set up on the north side of the river in 1826 by a former illicit distiller. That operation was burned down by fellow smugglers aggrieved at one of their number 'going legit', but it was rebuilt, so that in 1845 when Begg built his distillery on the south bank he called it New Lochnagar. The north-bank distillery had closed by 1860 and Lochnagar continued to prosper although the Abergeldie Estates consistently refused to sell the distillery the grounds it occupied, preferring to see value being added to their land through the erection of extensions and new buildings necessary for Lochnagar's continuing development.
The distillery became a trust for Begg's grandchildren, then a limited company, and was rebuilt in 1906. In 1916 it was sold to DCL. Most of the 1906 structure disappeared in the next rebuilding in 1963, although the malt-barn and the kiln, out of use since 1966, still survive, the latter reflecting evocatively in the distillery pond on bright, windless days.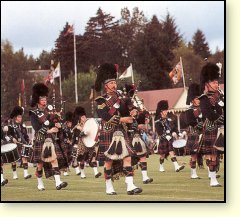 Braemar is the setting for the annual Royal Highland Gathering, held in the late summer. As well as bands of pipers, there are traditional Scottish sports such as tossing the caber.

Lighting was by paraffin lamp until 1949 and power was by waterwheel well into the 1960s. Most unusual are two cast-iron steeping vessels, which are rectangular in shape (these are almost universally cylindrical elsewhere). Lochnagar has a lot of storage capacity for raw materials so that distilling can continue when the distillery is snowed in. There is a single pair of stills but they are unusual in having lyne-arms (the tapering conical top sections) which dip downwards; most others are more or less horizontal. Each still has its own worm-tub – cast iron instead of wood – to condense the spirit.


The Whisky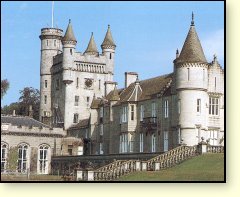 Source of water
Lochnagar springs

Of interest

• Braemar is best known for its Highland Games but the village has its own distinct identity. The Jacobite standard was raised here at the start of the 1715 Rebellion against the Crown. Braemar proper was created in 1870 by two tiny settlements, one Catholic and one Presbyterian (Protestant), coming together to live as a single community.

• The Braemar Royal Highland Gathering takes place in September in a beautiful natural amphitheatre. It is a colourful and noisy spectacle of pipe bands, Highland dancing, tossing the caber, throwing events, tug o' war, athletics and competitors clad in a hundred different tartans. It is merely the best-known event, however, and if you cannot get a ticket, two or three Highland Games are held every week from May to September in towns and villages all over the country.

• The grounds of Balmoral Castle are open to visitors when the Royal Family is not there. Normally they only appear in September for a holiday so there are plenty of opportunities to see the gardens in the course of the summer.

• Dunnottar Castle has a quite spectacular setting on a 160-foot-high plug of rock on the coast south of Stonehaven. It is a dramatic ruin after many sieges and was occupied by Cromwell in the 1650s. Cannons from Dunnottar were used by the Jacobite army in the 1715 Rebellion. The French Cognac brand, Otard, was founded by a family member who followed Bonnie Prince Charlie into exile in 1746; one of the Otards held a wedding reception in the ruins some years ago. In 1990, Mel Gibson and Glenn Close shot location scenes at Dunnottar for Zeffirelli's film version of Hamlet.