Oban Distillery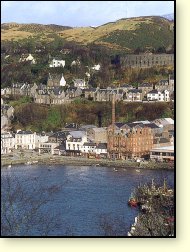 Location: Oban, Argyllshire PA34 5NH
Roads: Just off esplanade below McCaig's Tower on hill
Hours: 9.30am - 5.00pm Mon - Fri; Easter - October Mon - Sat. Last tour 4.00pm Group bookings by appointment
Reception centre and shop
Phone: 01631-564262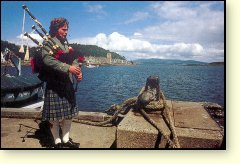 The sea front at Obal, with boat trips and pipers, is one of the tourist centres of the area.

The West Highland town of Oban lies in a very pretty position on the Firth of Lorn with the green islands of Lismore and Kerrera offshore and the bulk of Mull rising behind. The spot has long been appreciated as a safe anchorage and usually bristles with yacht masts; it is also the terminal for ferries to Mull and other islands. Oban's antiquity as a place of settlement is vividly expressed by its being the type-site in world archaeology of the Mesolithic Obanian culture. Worked stone implements, perhaps from as long ago as 4500 BC, were found here and indeed part of the discovery was made in a rock-shelter that was exposed during extension work in the Oban distillery yard. The Colosseum-like McCaig's Tower sits on a cliff above the town like a giant tiara. It is an excellent reference point for anyone seeking the distillery which lies immediately below.

Boswell and Johnson found a 'tolerable inn' when they visited Oban during their 1773 Highland jaunt; perhaps they were luckier than they realised, considering it was still no more than a fishing hamlet at the time. Sir Walter Scott passed through in 1814 and Mendelssohn in 1829 on his way to see Fingal's Cave on Staffa.

The distillery at Oban was founded in 1794 by the local Stevenson brothers who had been involved to some degree in the creation of the fishing port of Tobermory on Mull. The date makes Oban one of the oldest distilleries in Scotland, and it pre-dates the town which came to take shape around it. The first licence dates from 1797 but expired the following year despite a House of Commons report describing the distillery as one of the best equipped in the Highlands. For the next 20 years, the industrious Stevensons turned their attention to other matters. They were in the throes of developing Oban from the small fishing village it had been, and owned ship-building, slate-quarrying and house-building businesses.

The distillery was revived in 1818 and run by the Stevensons until the 1850s. A later owner rebuilt it in 1884, no doubt planning to capitalise on the faster transport to Glasgow and other large markets afforded by the railway, which had come to Oban town in 1880. It was during blasting operations in the cliff bounding the yard at the rear that a cave was revealed that had been used by Mesolithic settlers. Bones and stone tools were found, which are now in the National Antiquities Museum in Edinburgh. The site was sealed up following excavation. DCL bought the distillery in 1930 and had two periods of non-production – 1931 to 1937 and 1969 to 1972. During the latter closure the still house was rebuilt.

The distillery is set back from the harbour promenade in the heart of Oban town. The sea used to come right up to the door. What was originally the Stevensons' family house was eventually converted into offices. The sitting room had a peep-hole door which enabled checks to be made at any time on work in progress in the adjacent still house. At the start of World War II, the distillery men signed up to go to sea in the room that is now the manager's office; some of them were only 14 years old. The floor maltings closed in 1968 although it is still in place and listed as a historic building.

The still house was rebuilt in 1972 but the single pair of stills was not added to, although the heating method was converted from coal to steam. The stills are rather broad-necked in comparison to the longer, slimmer-necked stills seen in many other distilleries. Worm condensers are now quite rare in Scottish distilleries and the rectangular double worm-tub at Oban may well be unique. Oban's style is not over-robust but it is certainly long-lived. A Manchester merchant opened a bottle distilled at the end of the 19th century and reported the whisky as having a 'soft and fragrant nose'. Despite the belief that own-label whiskies are the creation of modern supermarket chains, the idea has long been in place in Scotland. Licensed grocers all over the country liked the cachet of having their very own brands and McKercher's of Oban sold single malt from the distillery under the Glenforsa brand name when it was hardly obtainable anywhere else.


The Whisky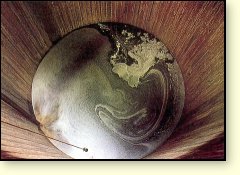 The temperature of the wort has to be checked regularly.

Oban's house style is medium in body and flavour, slightly peaty and zesty, with smooth texture and finish. It used to be bottled at 12 years old, but the optimum age is now regarded as 14 years at 43% vol. by its owners who made it one of their range of six 'Classic Malts'. Independent firms have 1962, 1972 and 21-year-old editions at strengths varying from 40% to 46% vol. Greater dryness and peat come through in the older bottlings, with sweet-edge sherry overlay when aged in Jerez casks. Source of water
Loch Gleann and Bhearraidh

Of interest

Dunstaffnage castle has an attractive site in parkland close by the waters edge.

• McCaig's Tower was commissioned in the 1890s as an act of philanthropy to keep local stonemasons in employment.

• Dunollie Castle is a 13th-century tower house with splendid views over the surrounding countryside. For this latter reason it was the main stronghold of the Scots Kings of Dalriada and later the Macdougalls, the Lords of Lorne. It was abandoned after the 1745 Jacobite Rebellion.

• Dunstaffnage Castle (13th century) was also originally a Macdougall castle. The Stone of Destiny was first brought here from Ireland. It was a ceremonial symbol of royal authority in the crowning of the Scottish Kings until Edward I of England, 'the Hammer of the Scots', removed it to Westminster Abbey as war-spoils. (In 1950 the Stone briefly came back to Scotland when two Scottish Nationalists snatched it from beneath the Coronation Chair in the Abbey. It was restored months later.) After the Jacobites' defeat at the Battle of Culloden in 1746, Flora Macdonald spent 10 days at Dunstaffnage on her way to London as a prisoner of the English Crown.

• The Oban Experience, on Heritage Wharf, takes you back to the creation and development of the town as a port and railway terminus. You find out why Garibaldi, Wordsworth, Mendelssohn and Sir Walter Scott visited Oban.

• Ben Cruachan is Scotland's Hollow Mountain – it is stuffed with the machinery and pumps that create the hydro-electric power. Go inside and see for yourself.

• Rare Breeds Farm Park works with interesting variations on the usual breeds of sheep, pigs, cattle and poultry seen on farms.

• The Scottish Salmon & Seafood Centre is a working fish farm with interpretative exhibitions on the development of the Scotch salmon-farming industry and the life-cycle of salmon.